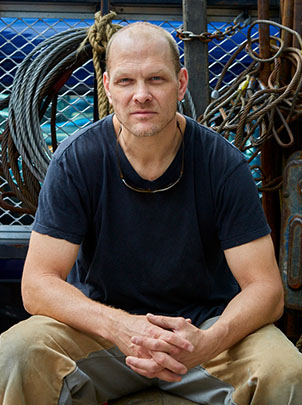 Jacob Kulin is an accomplished sculptor, metalsmith and furniture maker. A graduate of Skidmore College, Kulin received a Master of Fine Arts degree from Cranbrook Academy of Art. Today, he works on private, corporate and public commissions internationally ranging from smaller residential pieces to grand outdoor sculptures for commercial and public spaces. Kulin also continues to design and fabricate unique furnishings, all of which blend metal, glass, and reclaimed hardwoods. His contemporary table designs maintain a sculptural quality and allow functional use.
As a Boston-based sculptor of Danish heritage, Kulin's longstanding admiration for Scandinavian design has influenced his creative pursuits. The interplay of material remains a primary focus in Kulin's work; while metal and wood are favored, he also uses glass and other media to further explore precise fabrication, attention to detail, and a melding of materials. Kulin strives to integrate the perfection of nature into most of his works and feels a deep-rooted connection to natural forms. He believes a finished artwork must compliment a space, engage the viewer and leave a lasting impression.
Kulin's accomplishments range from sculptures for clients such as Royal Caribbean Cruise Lines and Viking River Cruises to corporate works for Wellington Management, Palomar Medical Tech and AstraZeneca Corporation. He has completed large public sculptures for the city of Boston. An indoor piece commissioned by Massachusetts Port Authority at Logan International Airport and an outdoor piece commissioned by Friends of Symphony Park and Boston Parks and Recreation Department for Symphony Community Park in the Fenway neighborhood. His approach to public sculpture begins by understanding the desires of the client and having collaborative dialog with all agencies involved. He enjoys the process of learning about the space for which a sculpture is intended to fully understand and predict the visual and physical impact of the design.